Use storage racks cleverly
Plastipol-Scheu offers a wide range of its own products and classic commercial goods for warehouse and factory equipment.
Design
Show off your Corporate Design through your Workplace Interior. In addition to our normal colors, you now have the option to choose between further special colors.
Sustainability
With our interior design you do not only optimize your workplace and logistic processes. We also help you reduce the waste of packaging and wasted storage space.
Our Origin
Our own manufactured products within the categories of Warehouse and Workplace interiors, are exclusively manufactured in Germany.
Our wide range of products includes every area of modern workshop and storage equipment.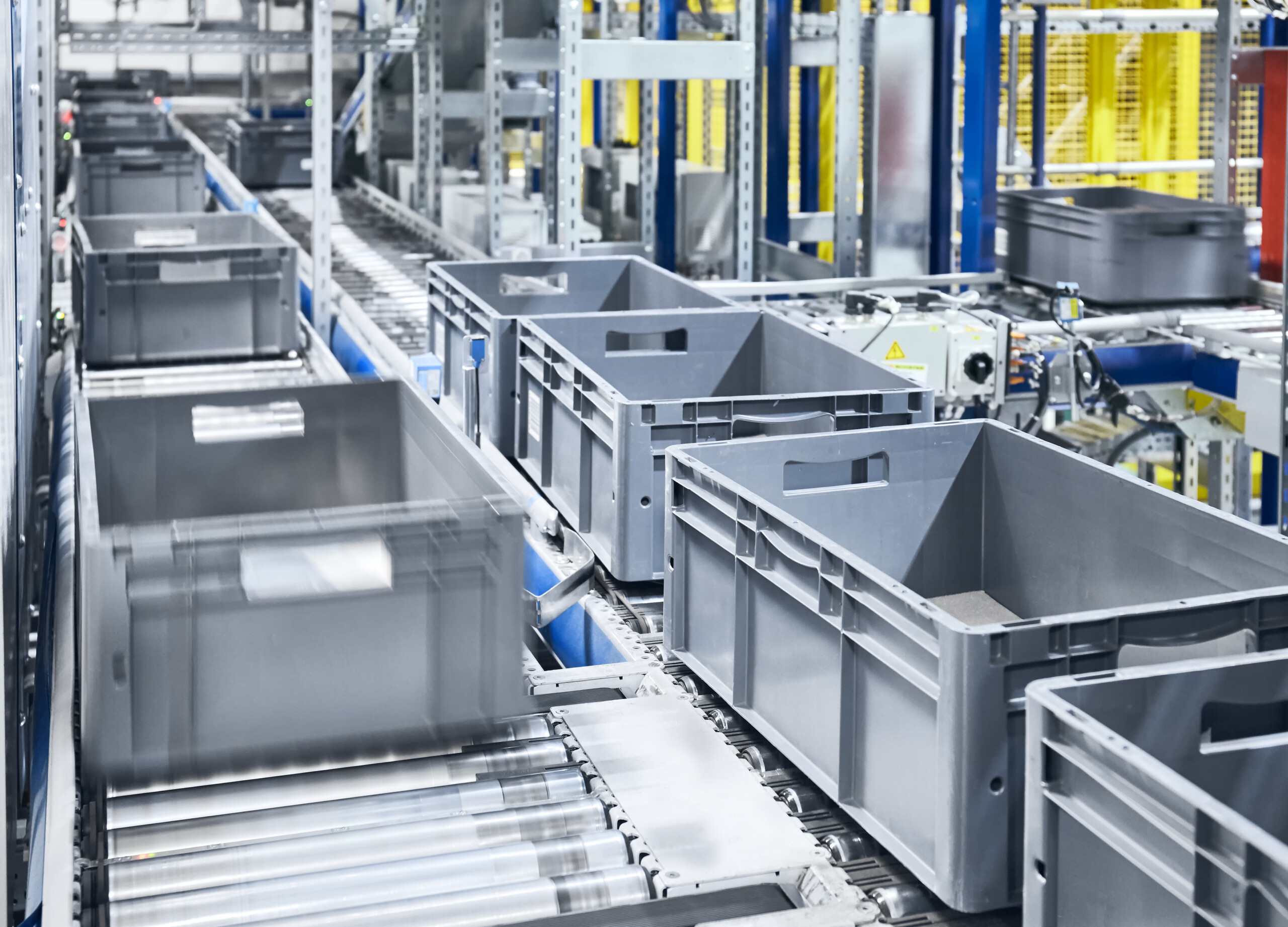 Storage Boxes

Mounting rails

Nest and Stack and Containers
Storage Boxes
If you have been looking for a place to store your smaller components and spare parts, we have a perfect option for you! Our Storage boxes! The transparent front of the box or bin makes it possible to look at the current contents of the box. This helps create a quick overview and order of all your smaller spare parts.
Versatile and robust
Our practical plastic boxes in industrial quality are particularly useful due to their many applications and solid structure. These storage boxes are made of polystyrol, which make them solid, easy to stack and provide an opportunity to transport food in them. These storage boxes from Plastipol-Scheu can easily help create a system in your warehouse or workshop area. They also provide a perfect easy access opportunity in workshops. Unlike other storage boxes, the Plastipol-Scheu storage boxes have an opening which lets you quickly pick out anything from within the container, even if they are stacked. This also gives you the opportunity to quickly see what the contents of the box are.
The rectangular shape of the box makes it possible to achieve optimal use of the containers volume. Our plastic storage boxes are available in the colors red, blue, green, grey, and yellow. The height and size of the boxes can vary from model to model. This provides you as the customer with a, opportunity to immediately choose the preferred size. In addition to this the boxes also have a built-in label frame on the front. This can help give a better overview of the box's contents. The large opening on the front of the box also allows you see the contents of the box, without being required to move or open it.
High-impact polystyrene (PS) Boxes-Industrial quality

Extremely dimensionally stable due to reinforcing ribs

Safe stacking due to pronounced stacking edge

Easy cleaning due to smooth inner surfaces

Smooth bottom for use with conveyor systems

Temperature resistant from -20° up to +60°C

Handy recessed grips at the front and back

Available in 5 different colours
Storage boxes
Our Kombi-Box makes it possible to easily create a better overview and order of your workshop or warehouse. By using a drawer cabinet, it is possible to easily gain access to your production and work supplies.
Optimize your workday!
Our Combibox creates an order and accessibility you have yet to see. It can be used for the Workshop, Office or in Manufacturing. Our drawers are best suitable for optimizing different tasks at work, since they are amazing at storing smaller components and spare parts. Our Combibox' are available in a variety of different sizes, which makes it possible to also store your bigger components. Due to the drawers inside of the box, your materials should remain almost dust-free. Our Combiboxes have flexible uses and can attach to each other, thereby making it possible to expand the system at any time.
In addition to this, it is also possible to connect the Combi-Boxes to each other, either by stacking or putting them together by using their built in "Slide-Function" (Made specifically for this device) This creates an opportunity to cover entire walls with these storage boxes. They can also be used in cabinets or shelves to improve the accessibility and create a proper storage structure in your workplace.
Create an even better structure in the storing of your smaller components by using our inserts and partitions.
The drawers are easily divided and separated by using our inserts and partitions, in order for even the smallest components to be stored safely.
High-impact polystyrene (PS) - industrial quality

Can be combined as desired within a series

Stable stacking due to insertion devices

Easy cleaning due to smooth inner surfaces

Drawers can also be stacked without housing

Drawers available in 4 colours

In the assortments, the labels are included in the scope of delivery
Nest and Stack and Containers
Our nest and stackable containers are perfect suited for use in transport or storage. Due to the shape of the container, it is possible to stack even full containers on each other, by simply turning them 180 degrees. They can also easily be nested inside of each other when empty. This provides not only a great storage unit, but also saves a gigantic amount of space when storing and transporting the empty containers.
Our Polyboxes
The nest and stackable containers easily save space for other storage. They are perfectly suitable as transport or storage units. Our nest and stackable containers are made of polypropylene and are therefore suitable for transporting food and are even (somewhat) resistant to some oils and acids (Please contact us for further information). It is possible to stack the filled containers on each other by turning them 180 degrees. When the containers are empty then can easily be stored inside of each other. This helps save a lot of space when driving back home. When using the containers, you should turn them 180 degrees, horizontally. The container has a flat bottom and is therefore suitable for use on certain surfaces, such as conveyor belts, furthermore, the containers are easily cleaned, due to their flat surfaces. Our nest and stackable containers are available in sizes between 6 to 70 L and can also be bought in 5 different colors.
Made of polypropylene (PP)

Over 50% storage space savings with empty containers

Temperature resistant from -20° up to +80°C

Smooth bottom for use with conveyor systems

Easy and trouble-free cleaning

Conditionally resistant to oils and acids (please enquire)

Ideally suited for transport on Euro pallets